UBC High Throughput Biology Facility
The Biofactorial (Bio!) High-Throughput Facility is located at the Life Sciences Institute at the University of British Columbia.

What we do.
Many of biology's unanswered questions require the use of large multifactorial experiments that are only solvable using some type of automation system, or require extreme miniaturization due to the exorbitant costs of essential reagents.  The Biofactorial (Bio!) High-Throughput Biology facility addresses several of the current gaps in automation infrastructure within academia and small industry and is meant to provide researchers inside and outside UBC with access to automation to enable high throughput biology.   If you're interested, let us know! Contact us
Screening
The facility has access to a large library of metagenomic samples and chemical compounds. These resources are available for use by clients to help to explore novel proteins, biosensors, or hit compounds for drug discovery.
Information & Analysis
The facility is associated with the Hallam lab and has access to numerous informatic pipelines for data analysis for genomic sequences.
Equipment
The facility has numerous capabilities including liquid handlers, plate readers, and sequencers.
Services & Costs
We operate on a cost recovery model offering full services and assisted services for access to automation.  As projects vary in requirements and needs, please contact us for a discussion.
Our Capabilities.
We assist investigators to reach their research potential using high through-put equipment. The heart of the Bio! facility is the LabCyte Access Workstation, featuring an Echo acoustic dispenser, Pherastar plate reader, Cytomat incubator (CO2 and O2 controls) and other capabilities. In addition, we operate an Aglient Bravo and High content readers used for research and development purposes. We also have many other liquid handlers and dispensers which can be used for mammalian cell culture, sequencing preparation, and other applications. Get in touch with us to learn more. Contact us.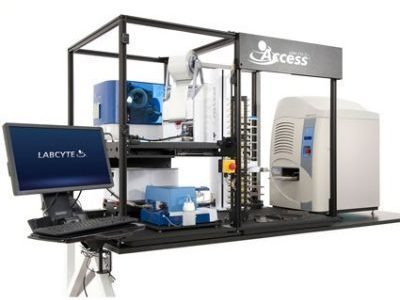 Access workstation
Transfers using the Echo Acoustic Liquid Handler and is capable of replicating entire workflows.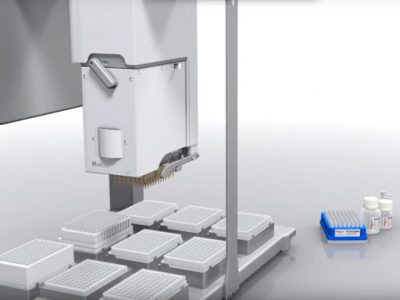 Agilent Bravo
The Bravo is a liquid handling machine used for DNA and RNA handling for NGS and Single-Cell RNA Seq processing.
List of Equipment
Equipment Handlers:
Echo Acoustic Handler

CombiNL

Matrix Hydra

Biomek3000 

Biotek MultiFlo

Biotek 406

Biomek Fx

Aglient Bravo
Plate Readers:
QPix Colony Picker
Biotek Plate Washer
Illumina MiSeq
Libraries.
We maintain an archive of over 125 large insert fosmid libraries encompassing over 200,000 unique clones sourced from diverse natural and engineered environments. With an average insert size of 40,000 base pairs these libraries collectively encode over 8 million predicted open reading frames that can be screened for the production of biocatalysts, biosensors and unique molecules.
Fosmid library sources include:
Engineered Environments
Short chain alkane degrading
Toluene-degrading
Naphtha-degrading
Oilsands tailing ponds
Coal bed cuttings and produced waters
Pulp and paper mill hog fuel pile
Natural Environments
Line P
Saanich Inlet
Lakelse hot spring
Williams Lake soil Horizons
In addition to archived libraries, we are able to construct custom libraries using facility infrastructure.
Compound screening is at the heart of many probe and drug discovery projects. Biofactorial enables investigators to access small volumes of compounds (100 uL) for screening projects performed at the facility and can support activities from assay design, screening, secondary assay screening, through to preliminary SAR.
Small molecular libraries include:
Bio - actives
(Compounds with identified biological activity)
Prestwick Off-patent drugs (1200 compounds)
Sigma LOPAC (1200 compounds)
Microsource and Biomol selected bioactives (1500 compounds
Screening Collections
(Overlap between libraries is <1%)
CCBN library (collection of 26,000 diverse compounds from Maybridge and Chembridge)
Chembridge DiverSet library (50,000 compounds)
Enamine and Chembridge collection (64,000 compounds)
We continue to update our library collections and encourage potential users to contacts us to learn more.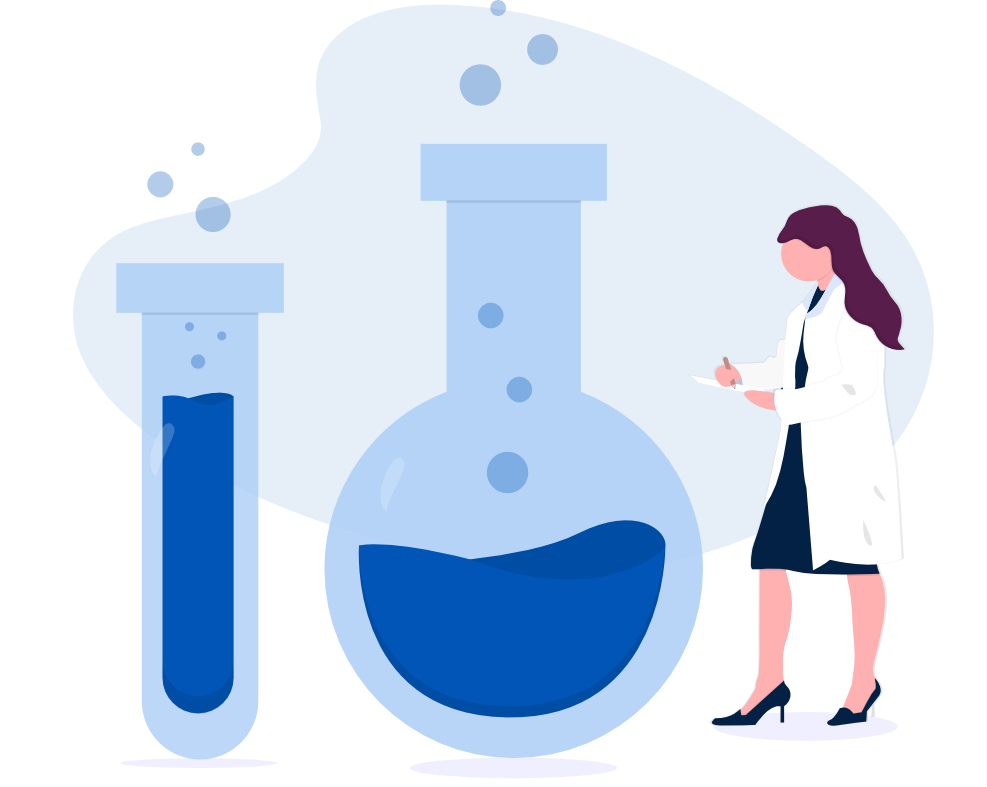 Potential Uses.
The Biofactorial facility was designed to aid in most common protocols. We are able to perform both mammalian and bacterial cell culture experiments for compound and metagenomic screening. In addition, the facility is able to generate sequencing libraries at low cost, and also sequence on site at request. Using our Bravo platform, we are able to process single cell RNA sequencing samples. The facility has both plate readers and high content readers for long term cell imaging experiments. Let us know if you would like to automate your workflow or would like to explore possibilities for a unique high-throughput capability. Contact us.
Contact Us.
Bio! is available for scheduling, please get in contact with us. Tom Pfiefer is the automation manager and can be reached by email at tpfeifer@mail.ubc.ca.
Mailing Address: 
Attn: Tom Pfeifer/Biofactorial
High-Throughput Biology Facility 
Rm. 2505, 2350 Health Sciences Mall
Vancouver, BC.
Canada V6T 1Z3
 Please contact us by email.